Painting the way to art club
"
In Art Club, since I've taken over, we've really tried to work on large collaborative pieces," Ontiveros said."
Students gather twice each month in room C104 to participate in Art Club. The organization offers students a chance to express themselves through a variety of art projects worked on by the club as a whole. Anyone is welcome to join at any time, even if he or she is not currently taking an art class in school. The club will resume meeting on Jan. 16.
"There are students that still want to be a part of the artistic field, but don't have time to take classes. So I like getting to work with a variety of different students," art teacher and club sponsor Danielle Ontiveros said.
The group is currently working on finishing a mural inspired by artist Kara Walker, known for the use of silhouettes in her artwork. The piece is symbolic of the student body and can be seen down the hallway near the cafeteria. Looking ahead, the art club is planning a project involving mixed media that will be hung up in the media center. New additions are hoped to be added to the piece each year.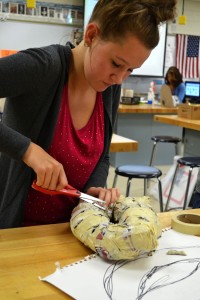 "In Art Club, since I've taken over, we've really tried to work on large collaborative pieces," Ontiveros said.
Art club does not only offer opportunities for working on larger collaborative artwork, but also opportunities to help out in the community. The club decorates for Riley events and also helps provide staff to help run the district art show.
One of Ontiveros' favorite parts is getting to know new students with all different backgrounds and giving them a chance to participate in something that will stimulate creativity in their minds.