"
"It's a social thing with like-minded people," Druelinger said.
Approximately 140 students participate in the Spanish club, sponsored by Spanish teacher Sarah Druelinger. In this club, students speak Spanish and learn about the different cultures of Spanish-speaking countries. Spanish Club is still accepting new members.  Their next event is the Nacho Fiesta on February 13.  Contact Druelinger if you are interested in joining.
"I think it's just an extension of what kids are doing in class," Druelinger said.  "They get…to experience Cinco de Mayo rather than just hear about it."
The Spanish club includes many activities, from eating out at restaurants to a Secret Santa gift exchange.  They also celebrate other holidays from different Spanish speaking countries, such as Cinco de Mayo and Day of the Dead.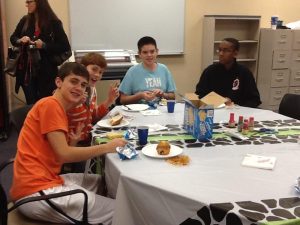 According to Druelinger, the Spanish Club tries to speak in Spanish as much as they can.
"It's for all levels, so it's good for the lower levels to come and…see what the kids that are in Spanish three and four can do," Druelinger said.
Spanish Club is also very social.  Druelinger admits that anyone can go a Mexican restaurant on their own time, but it's still special to go with the club.
"It's a social thing with like-minded people," Druelinger said.