Philosophy Club discusses questioned topics
"
"Sometimes we plan about different things beforehand and then sometimes we come in and talk about random things," senior Dimi Tcholakov said."
What is the meaning of life? This tends to be the stereotypical question that people may think is discussed in a Philosophy Club; however, it is much more than that.
Meeting in social studies teacher Dr. Chris Edward's room on either on Wednesdays or Tuesdays mornings, the Philosophy Club discusses topics like ethics, language, how math justifies and physics.
The club started last year with about 20 members, but this year it consists of five to ten consistent members.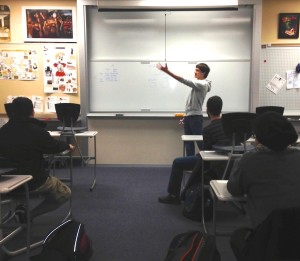 "Sometimes we plan about different things beforehand and then sometimes we come in and talk about random things," senior Dimi Tcholakov said.
For the most part, the club is a "cool and relaxed" club according to the members. Everyone is free to express their opinions about certain philosophical subjects.
"There's no really executive action," junior Hannah Eli said. "Nobody really leads the meetings, they simply come and discuss whatever may be questioned that week."
They discuss using charts and several philosophical concepts, and as of February 12, the difference between ethics and logic was discussed using t-charts and several diagrams.