Announcements now airing during 7th period
Miranda Lyons- Announcements broadcast by mass media students will air during 7th period this year. The decision to show announcements 7th period comes after a schedule switch for mass media from 1st period to 4th and allows more time for daily announcement videos to upload to Youtube.
Mass media teacher Jon Colby requested an addition of at least an one period break in between the period announcements filmed and aired from the administration because putting the announcements online through Youtube lengthened the time needed to prepare them.
"The problem with online is that after we record them, we have to export them from the program and upload them to Youtube. And last year, we had to travel like mad men and women to get them online before the beginning of 2nd period," Colby said.
The announcements began airing on Youtube last year because portables were unable to view them through the school's broadcasting feed.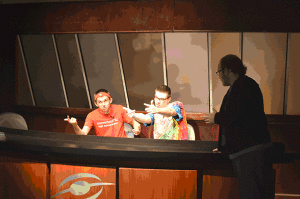 "… By being online, people can watch them outside of school and now that we have the portables which aren't connected through the broadcast system, that allows them to watch it too," Colby said.