Cru goal to develop friends and faith
Morgan Jones, Guest Writer – Cru is a place of worship, playing games, making new friends and learning more about one's faith with God. The club takes place on Mondays at 7:17 p.m., in cafe A.
Cru consists of many leaders, sophmores through seniors. They get to help plan what activities go on at the Cru meetings. They plan for it at the Michals' house at 6:20 a.m.
The main leaders of Cru are Dawn and Mark Michals, and they are the ones who plan out what goes on at Cru. Coming up on Oct. 20, a former leader who is now a freshman at Ball State University, Alicia Fleenor, will be sharing her story. Also, a retreat called Fastbreak, will be coming up in February.
"Being a leader for Cru is great, it makes you come out of your comfort zone, but it's worth it," sophomore leader Gabby Puccinelli said.
Cru has a goal to get people connected and involved as much as possible and for anyone and everyone to feel welcome.
"It's amazing to see relationships form and to be able to be a part of forming those," sophomore leader Morgen Stevens said.
Cru is not only during the school year; one can stay involved during the summer. There are small groups for different age ranges.
"This summer I went to small groups, and it was a fun way to stay in contact with Cru and all of my friends," Stevens said.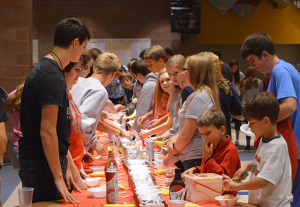 To get involved in Cru, just show up on Mon. at 7:17 p.m., fill out a registration card, and talk to your friends or even Mark.