Madi Calvert- The new business and computer programming teacher Carey Anderson is a proud Hoosier that grew up in Carmel, Indiana.
She decided she wanted to be a teacher in high school after cadet teaching and instructing at preschools. "I was one of those students that knew exactly what I wanted to do in life. There was no stopping me," Anderson said.
Anderson attended Ball State college and later on, Butler University, finishing her required courses in three and a half years, plus half a year of cadet teaching. This is her eleventh year teaching public school and three years teaching private school, with nine years in higher education. She also served as an administrator for three years.
"I decided to get my graduate degree pretty early in life. It was after my first year teaching. I said 'I want to change the world', so I went immediately into graduate school," Anderson said.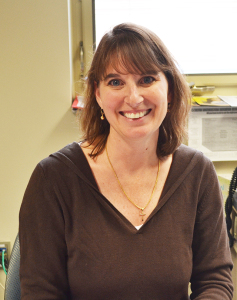 Outside of school, Anderson loves being outdoors and enjoying nature. She also likes sports, especially football and hockey. Her favorite teams are the Colts and the Blackhawks.