Reily Sanderson–  Whether it is through FCA, Cru, or any other organization, many students in Fishers practice a religion, attend youth groups, and/or church. Youth Alive is a club that helps students connect with their faith with their peers.
"We're here to build each other up and to show love to everyone else in the school," senior David Alexander said.
The religion focused on in this club is Christianity. When the club meets they have circle discussions, where they discuss their faith, the bible, their thoughts, and the religion in general. Doing this helps students expand their faith and connect with one another.
"I like the close encounter relationships we have with one another," Alexander said.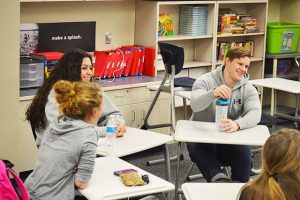 The youth alive website states that a campus missionary, a student is called to spread the word about God; pray regularly, serve others, tell their story about their faith, and to give generously.
Youth Alive is sponsored by special services teacher Sheri Dimos, and meets Wednesdays after school in B129. Cookies are also provided.