US History students experience draft
Ryan Ahler-Students in Tammie Spencer and Suzan Huppenthal's US history classes conducted a mock draft while studying the Vietnam war in order to raise money for the Veterans Affairs Medical Center of Indianapolis (VAMC).
The draft was conducted by choosing 30 percent of the students randomly, they could then either do an assignment or defer and pay two dollars. Three separate drafts were held, representing World War II, Korea and Vietnam. The assignments that those who did not defer had to do was a timeline of whatever war they were "fighting," in.
"I choose not to defer because I thought the assignment would be good for gaining points for class and was pretty interesting too." junior Colin Beresford aid.
The students held a democratic election to choose what charity they would donate all of the money raised too. All of the students who took part signed a card which will go to the veterans.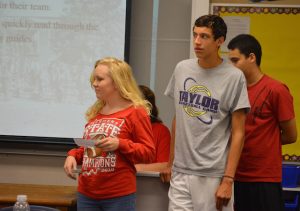 "I was drafted all three times, so I did the assignment the first time and payed the money the next two, because I didn't want to do the assignment anymore." junior Shay Mccormick said.