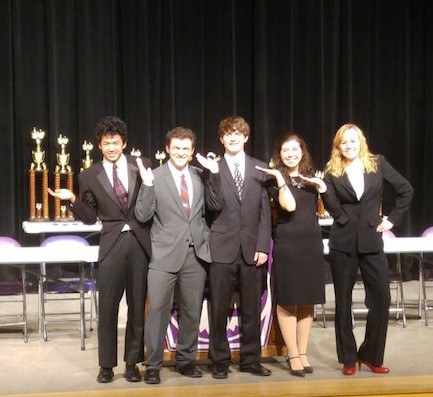 At the Indiana State Debate Competition at Ben Davis on January 29-30, the World Debate team won first place for their division. It was the first year that the World Debate has been part of the state competition.
"Friday night, we had two qualifying rounds. The third qualifying round was Saturday morning. There were 10 teams, and only 8 made it into the final rounds. We made it to finals and beat Penn High School for the state title," junior Sarah Frisbie said.
World Debate is two teams of three people. One side "proposes" a motion and the other side "opposes" it. Juniors Noah Alderton, Sarah Frisbie, Olivia Jacobs, Zane Jud and Matthieu Picard make up the team. Three weeks before the meet, they received the topics for each of the three rounds.
"We have to write the proposition and opposition side of the prepared debates and then we typically practice debating once," Frisbie said.
The team does not know if they will argue the proposition or opposition of each round until the day of the meet.
To learn more about Speech Team and World Debate, follow their Twitter here.