Food favorites
Three restaurants beloved by students.
   Whether it be before an event or after school, many students rely on restaurants for a meal when they are out and about. That being said, some places have distinguished themselves as favorites among the student body. Be it good prices, delicious food, or fond memories, these three locations get students' seal of approval.
Steak N' Shake
   For senior Allison Van Dyke, the shake in "Steak N' Shake" along with the experience makes the restaurant special.
   "Steak and Shake stands out the most to me because of the ice cream," Van Dyke said. "Growing up, ice cream was my dessert of choice, so going to steak and shake and trying out all of the flavors was so fun for me."
   To go along with their wide variety of milkshakes, the location in downtown Fishers is spacey with plenty of seats, making it a prime spot for a post-game or post-performance outing, or just as a spot to relax with friends.
   "I find myself at Steak and Shake most often after a speech or debate tournament." Van Dyke said. "Our team loves to go there to decompress or celebrate after a meet, and it is fun to hang out with people and catch up after a stressful day."
Zaxby's 
   The southern chicken chain Zaxby's established its first Indianapolis location in 2014. Located right off of state Route 37, Senior Vaughn Jacobson likes the convenience Zaxby's gives him.
    "I feel like when Zaxby's is not closed, because sometimes I get out of things late, if Zaxby's is open I'm on it," Jacobson said.  "Sometimes I'll get a little group together, but it's spur of the moment ."
   Zaxby's is known for their signature sauces, but also has a wide variety of menu options. But for Vaughn, he knows what he wants. "My go-to order is a five-finger plate, large, no coleslaw, extra toast, with a peach cream soda."
Olive Garden
   Since its founding in 1982, Olive Garden has amassed over 900 locations, some of which are international. According to their website, they value their title of a family restaurant with iconic salads, homemade soups and sauces, and a wide variety of Italian dishes to choose from.
   "My go-to order is the cheese ravioli because it's delicious and well made," Sophomore Garett Glaze said. He also likes their pasta with marinara sauce or lasagne.
   Olive Garden  touts their restaurant as a place for everyone to enjoy, with scenic decorations and comfort food. 
   "I usually go with my family on Friday nights or Sundays," Glaze said. "We [his family] go after church on Sundays or for birthday parties."
   When it comes time to grab a meal, either on the go or with others, these restaurants have gained students' satisfaction and approval.
Leave a Comment
About the Contributor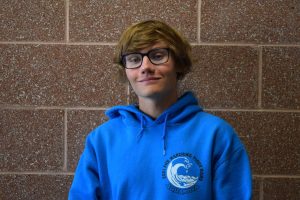 Alex Duer, Reporter
Alex is a Senior at Fishers High School. Alex is a member of the band program and participates in unified sports. This is his first year on staff.