Day of atonement
Beginning the sundown of October 4, students of FHS observed the holiest of Jewish holidays.
   As the sun sets on the ninth day of Tishri, the first month of the Jewish civil calendar, so begins Yom Kippur, the holiest of Jewish holidays. Literally meaning 'day of atonement,' Jews around the world spend the day repenting for their sins of the past Hebrew year. Typical services begin on the eve of Yom Kippur, and continue into the following day, with most observing a 25 hour fast. For president of the Jewish Student Association (JSA) and junior Marissa Moore, Yom Kippur is a great opportunity to spend time with loved ones.
   "I like seeing family," Marissa Moore said. "That's what I love about [Yom Kippur]. We're really close with our extended family… so it's always nice to see them."
   Yom Kippur services include the reading of scriptures, praying and most uniquely, the blowing of the shofar, a traditional musical horn.
   "[My favorite part of the service is] definitely the blowing of the shofar," freshman Lyrie Tzarfati said. "It's almost holy."
"
"To me, I have always liked the idea of Yom Kippur. I think of it as a clean slate – we go to services and we accept everything [that we have done] wrong."
— Marissa Moore
   With a global population of almost 15 million who identify as Jewish, according to the Pew Research Center, traditions are bound to vary. While it is common to feast on things such as salmon and gefilte fish at sunset, Marissa Moore and their brother, JSA vice-president and freshman, Nathan Moore, also often enjoy pizza as part of this meal.
   "We break the fast with borscht,… then our family [gets] Papa John's pizza," Marissa Moore said. "All the kids would complain that they don't want to eat the fish, so my aunt always gets us pizza."
   Similarly to his sister, Nathan Moore also sees other Jewish holidays as a great way to further bond with relatives.
   "[Passover] is another chance to see your whole family," Nathan Moore said. "A lot of other holidays tend to be [spent] with just your immediate family, so it's a really nice chance to talk with [your extended family]."
   Beyond just being a time with loved ones, many find Yom Kippur to be a day of profound introspection.
   "To me, [Yom Kippur] is very much a day of self-reflection," Tzarfati said. "It makes me reflect on all the things that I did last Hebrew year… and what I should change for this year."
Leave a Comment
About the Contributor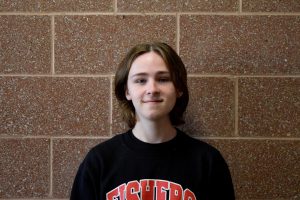 Jakob Polly, News Editor
Jakob is a junior at Fishers High School.