Let's talk consequences
Bob Huggins is the latest example of sports figures getting away with minimal punishment
    On May 8, during a Cincinnati morning radio show, former Cincinnati University and current West Virginia head coach Bob Huggins was asked his thoughts about Xavier University. A rival school with Cincinnati, he brought up an incident where Xavier's student section threw "rubber penises" on the court claiming, "It was all those f—s, all those Catholic f—s." 
   Promptly after this hatred-fueled statement, Huggins and West Virginia University released the same graphic of a statement. apologizing for his actions. Two days later on May 10, the University released a lengthier statement that said more of the same. Despite the school fining Huggins one million dollars, suspending him for the first three games of the next season and requiring that he undergo sensitivity training, it still does not serve proper justice even if it is more punishment than what has been seen in the past. However, for a coach that is entering his 17th season with the school and 42nd overall, this is still a slap on the wrist. According to the school's athletic website, Huggins has been paid four million a year by the athletic department since his contract extension in 2017. As for the games he is suspended from, they are mere non-conference matchups that the University will be paying Missouri State, Monmouth and Jacksonville State to oppose them. A common practice throughout the division one level, but with no real substance to the games Huggins is being suspended from it just leaves a bad taste in my mouth. Then right when Huggins gets reinstated he will be getting a nice paid vacation to Fort Myers, Florida as his team will be competing there as part of the Fort Myers Tip-Off tournament. Not only should Huggins have been suspended for the vacation part of the season, but there is no reason Huggins should still be calling the shots for the Mountaineers. 
    Huggins has always been known to be a vulgar guy, it is who he is but, vulgarity is far different than bigotry and that is where he has finally crossed the line. Vulgarity is the f-word, hatred is the f-slur. He has never been a saint, nor did he ever have to be. Huggins was the old vulgar hefty guy who was a pretty good basketball coach and that was a perfectly okay persona to live. However, this is not the first time he has pushed the boundaries. While at Cincinnati, he was in the middle of a 1998 NCAA investigation that saw players Charles Williams, Ruben Patterson and his assistant coach John Loyer serve lengthy suspensions as well as the program being put under probation. According to ESPN, seven years after the investigation at the end of his tenure with the Bearcats, he was charged with a DUI and given an ultimatum to be fired or to resign, Huggins ultimately chose to resign where he went on to coach Kansas State for a season prior to being named as the West Virginia coach in 2007. According to SportsReference, Huggins has the third most wins in NCAA division one history and eighth most across all levels, earning him a spot in the 2022 Basketball Hall of Fame induction class. However, it also seems to earn him unlimited second chances. 
    For a guy who has always had a choppy public reputation and a DUI under his name, an action this serious cannot go by essentially unscathed. He has been given an ultimatum once, and he should have been given another one as quickly as he wrote up an apologetic statement. West Virginia University should have told him to either retire or get fired, yet he walks away from this with nothing but a slap on the wrist and an even worse reputation that he has never cared about. It is one thing to keep a winning Hall of Fame coach around despite the off-the-court problems, but even with that standpoint, Huggins has just two tournament appearances and one 20-win season over the past five years. For a seventy-year-old man who has been in the same profession for over 40 years, it is time to call it quits, and it should be in a forceful manner. This is not just a Bob Huggins issue, nor is it just a West Virginia issue, but it is a representation of the NCAA as a whole. 
    According to NCAA policy, they are adamant about believing that all students should be safe and treated with respect and dignity as consistent with their institutional/conference values and mission, supposedly extending hospitality to LGBTQ+ visitors and guests. Although Bob Huggins is not a direct representation of the NCAA, West Virginia holds a similar policy towards their stance on the LGBTQ+ community, claiming they do not discriminate against any sex, sexual orientation, genetic information, gender identity or gender expression in the administration of any of its educational programs, activities, or with respect to admission or employment. For both an association and a member school of that association to be so deceptively adamant about LGBTQ+ protection to not do a single thing about Huggins's comments is the issue. All that needs to be done is to simply force Huggins to retire and keep his legacy, yet letting it slide is just another example of legends getting unjust punishment. The NCAA has been corrupt for a long time and it is not secret. However in the past couple of months they have had two men's basketball teams in the middle of two different capital murder cases, the most anticipated women's basketball game ever interrupted by crappy officiating and now this Huggins bringing it all home with targeted hate speech. The NCAA stayed quiet and let the schools handle business with the prior controversies, but both it and West Virginia have the chance to finally give out proper consequences with Huggins and set a progressive precedent, but why get our hopes up that a school or the NCAA would ever do something to majorly discipline a tenured coach.
Leave a Comment
About the Contributor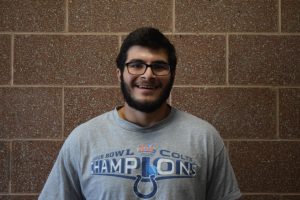 David Jacobs, Reporter
David Jacobs is a senior at Fishers High School and is a reporter for the Tiger Times. He plays football and throws shot put/discus for track.