Tigers lose first game of the season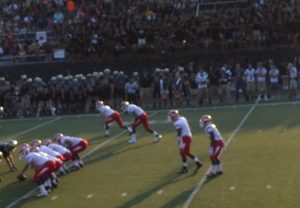 First varsity football game of the season at Noblesville, they scored first and then later  FHS was in the lead
during halftime. As junior Maurice Campbell and senior Jshun Harris scored touchdowns, the game ended with Fishers defeated by three points, 27-24.
The game was Aug. 23. According to junior varsity/junior varsity linebacker Isaiah Hartmann the defense had too many missed tackles while the offense could have executed better plays that they already had. The crowd was awesome, according to Hartmann.
"I came in confident, but at the end I realized we needed to practice harder because we have a lot of things to work on," Hartmann said.
However, the goal has not changed from day one, which is to win state according to Hartmann. Friday, Aug. 31 will be the annual 'Rumble in the Jungle' game, HSE will be coming to play on the Reynolds Tiger Stadium.
Leave a Comment