Model UN travels to conference in Chicago
Emily Baumgartner– The Model United Nations (UN) club recently traveled to the Palmer House of Chicago for a conference on Feb 7. The conference was run through the University of Chicago, and consisted of 2600 delegates from schools all around the Midwest, as far as New York and China.
"We were all divided into different committees to represent a country. We had two possible problems to talk about and came to a resolution from there," junior Emma Getz said.
The club was split up through the duration of the conference, each group of students working for as separate countries and solving a different issue.
"Lauren Meadows and I represented Saudi Arabia in the UN office of drugs and crime. We debated our stance and immediately started a working paper, which is a draft to a final resolution. Many countries sided with our paper and became signatories. Eventually we merged with another paper and in the end, our resolution to combat terrorism ended up winning,"
Fishers usually attends three conferences a year. The club still has yet to go to their conferences in Michigan, and Earlham.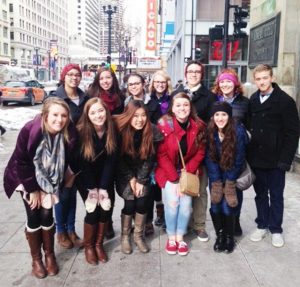 Model UN is a way for students to come together and talk about international politics and diplomacy. The club meets every tuesday after school in the LGI room.