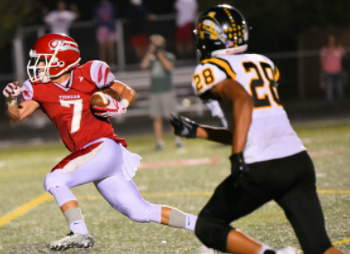 On Friday, September 22 the Tigers defeated the Avon Orioles who are ranked fourth in the state 35-28.
"It was a really nervous game playing a team ranked fourth in the state and being conference but, that only meant we had to be stronger," senior wide receiver Will Syrus said.
Avon scored the first points of the game with an 80 yard touchdown. With less than five minutes left in the quarter junior tailback HL Lewis scored for the Tigers making the score 7-7. At the end of the first quarter Orioles led 15-7 after another touchdown.
Syrus scored a 75 yard touchdown after catching the pass from senior quarterback Matthew Wolff, leaving the tigers down by one point with 15-14.
Lewis scored another touchdown with 47 seconds left in the second quarter to make the score 20-15 Fishers. Avon responded with a touchdown with 33 at the end of the first half, leaving the Orioles up 22-20.
Avon made the only point grab of the third quarter by a field goal that left  Fishers down 25-20.
Another field goal made by Avon to start the fourth quarter made the score 28-20 Orioles.  A junior quarterback found senior tight end Isaiah Dunnuck for a 16 yard touchdown tying the game up at 28.
To finish off the game Vore found  junior wide receiver Colin Statz for a 30 yard touchdown to put the Tigers up 35-28. The Orioles were not able to score, leaving the Tigers on top for a final score of 35-28.
"It was a really good game and we have to do the same next week playing a good team like Roncalli but we will do as much as we can like we did tonight," Syrus said.
Fishers will face Roncalli next on Friday, September 29 at home. For more information on the Fishers football team, visit the high school's athletic website here.