Senior Powderpuff wins it all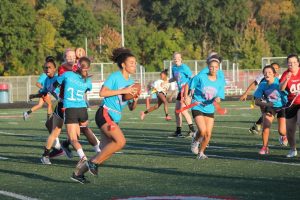 The seniors played the sophomores in a game of Powderpuff football on Wednesday, September 25th. Being the first game the
pressure is on both teams to strive for a win to continue playing. A battle between seniors and sophomores takes place on the field. Pulling away with a eight to six win the seniors walk off the field victorious.
Junior Sarah Buse was tight end for the junior team. Buse was mentally prepared to be on the field. "I look at where the ball is going and see what I need to do, a.k.a either block or open up for a pass".
A little after FHS juniors and freshmen take the field to fight for the last spot in the finals. Running back and forth the juniors score and regain possession of the ball against the freshmen. Leaving the freshmen behind the juniors take the lead 14-0 at halftime. Going through another twelve minutes, the juniors won the game.
Now in the championship the seniors verse the juniors. Starting out fast the seniors score and are playing hard. The juniors start a little slower but are more aware of the surrounding players and gradually move down the field. Coming to an end, the FHS seniors have the lead at 12-0. The buzzer ringing, those mighty seniors jump around and scream in excitement because they won the championship.