Football prepares for sectional game against HSE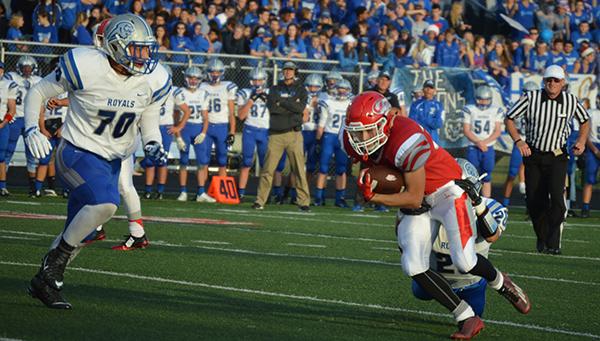 As this year's football season starts to draw to a close, the team has begun thinking about their sectional game for the 2015 season. For their first match-up, the team will face their long-standing rival, HSE.
Already this season, the team has faced HSE and much to the team's disappointment, the varsity team fell short.
"We had a 28-0 lead and we lost focus. We started to believe that we had won the game in the first half and they came out in the second half and they just wanted it more," senior varsity football player Jeremy Chinn said.
Once the news came in that the team would get another shot to beat HSE this season however, spirits changed.
"We were all excited; it's like a chance at redemption so this couldn't be any better for us," Chinn said.
With the second chance, the team began to regroup and head coach Rick Wimmer started making plans to prepare the team.
"A lot of it will be about ball security…and taking a look at what they're doing scheme-wise with their defense and how we can best defend the things they do best," Wimmer said.
Preparations for the sectional game will begin on Monday.
"They've [HSE] gotten better, so it's gonna be a big challenge for us but we'll get ready and hopefully have them in the right state of mind to go out and play," Wimmer said.
The varsity football team faces HSE on Friday, Oct 23 at 7 p.m. in the stadium.